企画・制作・主催:JOLT, SuperDeluxe, Test Tone
協力:BankART1929, Ritsumeikan University, RMIT University, Slow Label
HAGOROMO 羽衣
最先端のオーディオビジュアルとインタラクティブ・パフォーマンス
青木涼子 RYOKO AOKI
THE AMPLIFIED ELEPHANTS
DUCKWORTH HULLICK DUO
SHIGINORI MOCHIZUKI
JAPANESE & AUSTRALIAN ARTISTS CREATING NEW CULTURAL EXPERIENCES
Legendary Noh Singer Ryoko Aoki has created new imagining of the 14th Century Noh play Hagoromo in collaboration with The Amplified Elephants – Australia's leading neurodiverse electronic music ensemble. Jonathan Duckworth, Shigenori Mochizuki and Ross Eldridge have forged new ground as audiovisual interactivity technologists, and their work appears in Hagoromo.
The Amplified Elephants were delighted to be invited by Director Yoshie Kriss of Japanese production company, Slow Label, to work on a new live-streaming project with internationally acclaimed Noh singer Ryoko Aoki.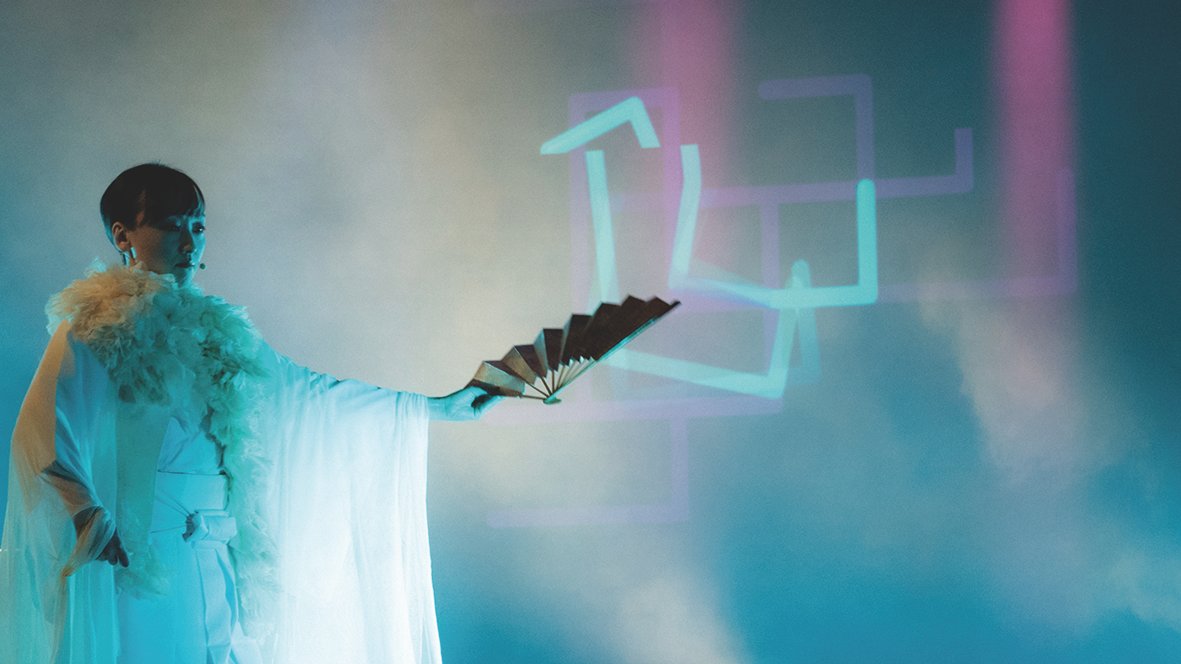 The story Hagoromo tells of angel from the moon, who travels to earth only to lose her cloak of invisibility. Sonically the production entwines avant-garde ambient electronics with the remarkable tradition of Noh singing. The marriage of old and new art forms is further celebrated through the visuals of this production, which overlay state of the art projection and 3D mapping technology with traditional Noh aesthetics. Researchers A. Prof. Jonathan Duckworth (CiART Labs, RMIT University), and A. Prof. Shigenori Mochizuki (Ritsumeikan University) have digitally captured Aoki's performance so that it can be delivered entirely as an avatar alongside The Amplified Elephants in the live theatre space: Technology transforms the human artist into an angel.
Another key feature in our telling of this mythic story is the use of Disruptive Critters (Duckworth Hullick Duo): an interactive touch screen interface which is then digitally mapped through the performance space by Shigenori Mochizuki. The Amplified Elephants use Disruptive Critters as their central electronic sound generator.
Funded by: The Toyota Foundation, Interactive Arts and Disability: Creative Rehabilitation and Activity for Individuals with a Disability (Representative: Shigenori Mochizuki); Australia Japan Foundation. The development of a 15-minute version of this work was assisted by the Australian Government through the Australia Council, its arts funding and advisory body. The development of a 15-minute version of this work was supported by the Victorian Government through Creative Victoria.
Hero photo by: Yuko Amano
ALBUMS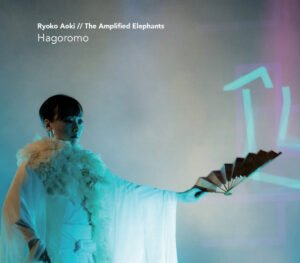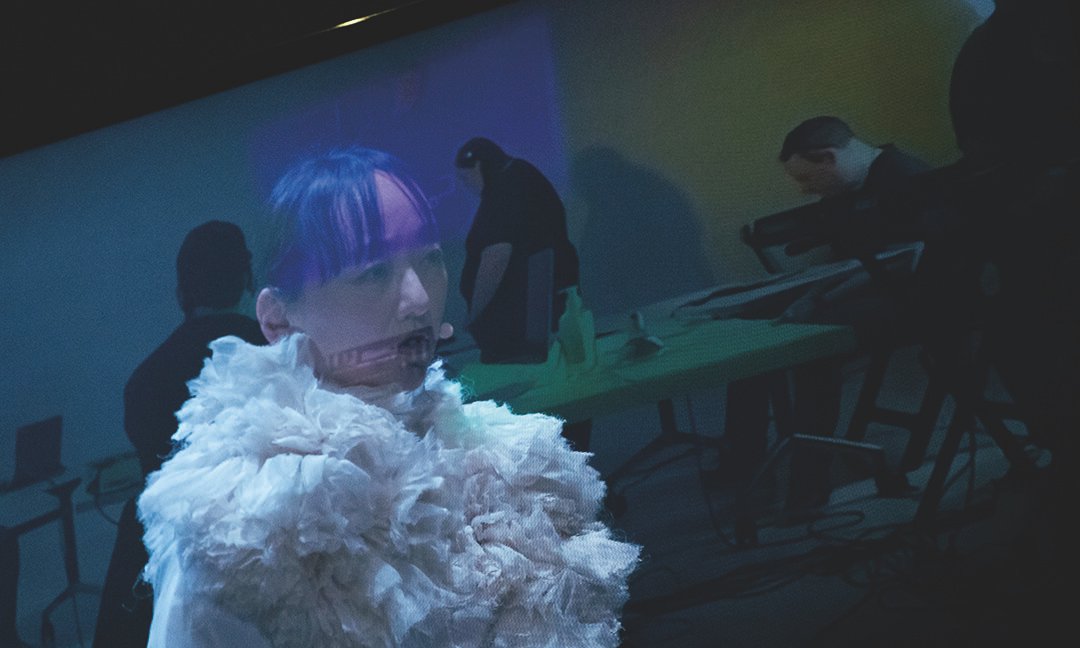 RYOKO AOKI Noh Singer & Performer Ryoko Aoki holds a unique position in the field of Noh theatre as a female singer and performer. She has performed in several traditional Noh plays, historically the reserve of male actors. Above all, she is the pioneer of and...
PREVIOUS PERFORMANCES
2023
日程 2023年9月24日[日]
時間 15:00〜19:00 ※ 開場20分後に開演
料金 当日入場無料
会場 BankART Station 通路ギャラリー
〒220-0012横浜市西区みなとみらい5-1
みなとみらい線「新高島駅」改札上 地下1F
SUNDAY, 24 September, 3pm
featuring/出演:
青木涼子 RYOKO AOKI
中山晃子 AKIKO NAKAYAMA
THE AMPLIFIED ELEPHANTS
PARACOLLIDER (牧野貴+キャル・ライアル)
DUCKWORTH HULLICK DUO
NOISE SCAVENGERS
JAMES HULLICK
SHIGINORI MOCHIZUKI
オーストラリアを代表するアート団体、JOLT Artsは、日本とオーストラリアの最先端のサウンドと映像アーティストを紹介する「JOLT Showcase Yokohama 2023」を開催します。
革新と伝統が融合するこの文化イベントでは、参加者は芸術の境界を探求し、その世界に浸ることでしょう。
著名な能声楽家である青木涼子は、オーストラリアの神経多様性音楽アンサンブル、The Amplified Elephantsとコラボレーションをします。
ライブペインターの中山晃子は作曲家ジェームス・ヒューリックと視覚的な夢の世界を創作します。
映像作家、牧野貴とサウンドアーティストのキャル・ライアルは、マルチスクリーン体験のオーディオビジュアル・プロジェクト「Paracollider」を公開、 Noise Scavengersは、インタラクティブなMIDIブレスレットを通じてアートとテクノロジーを交差させるなど、注目のアーティストが出演します。
また、オーディオビジュアル・インタラクティビティのパイオニアであるJonathan Duckworth、望月茂徳、Ross Eldridgeも参加、 このイベントは芸術の可能性を探求するユニークなものとなるでしょう。
OTHER PERFORMANCES
2022: Hagoromo at JOLTED Arts Space
2021: Hagoromo at Kindred Studios, Australia / Spiral Hall, Japan
SUPPORTED BY: