OSSICLE DUO
BEN ANDERSON – trombone 
HAMISH UPTON – percussion
In 2018, OD delivered their debut performance to a sold out audience at Temperance Hall in South Melbourne. This performance was warmly received and featured a new work by James Hullick.
James Hullick composed 'Grit' for Ossicle Duo, a boundary – pushing work posing the performers as characters, down on their luck and frustrated with the constraints of society.
The duo also demonstrated their commitment to presenting challenging repertoire in performing 'Earth' by Richard Barrett, 'Beast from Air' by Brenton Broadstock, and created their own arrangement of four movements of Tierkreis by K. Stockhausen. OD are grateful to the support of the arts community in attendance at this concert, and acknowledge that several of the composers in attendance have confirmed their willingness to write new musical works for the duo.
OD were supported by the City of Port Phillip (Melbourne) in a 2017 Cultural Development Fund grant, which alllowed them to hire Temperance Hall, a unique venue with a distinct aesthetic suited to the program. Hamish performed a solo work at the presentation of the 2018 awards.
Following on from this performance, OD presented 'In a Japanese Garden' at the Melbourne Recital Centre Salon. This concert featured works by John Cage, Dai Fujikura, and Kaija Saariaho. OD collaborated with the Bonsai Society of Victoria to decorate the venue with 5 beautiful trees, and curated various lighting states to create contrasting focus and colour combinations for each work, and movements within the distinct compositions.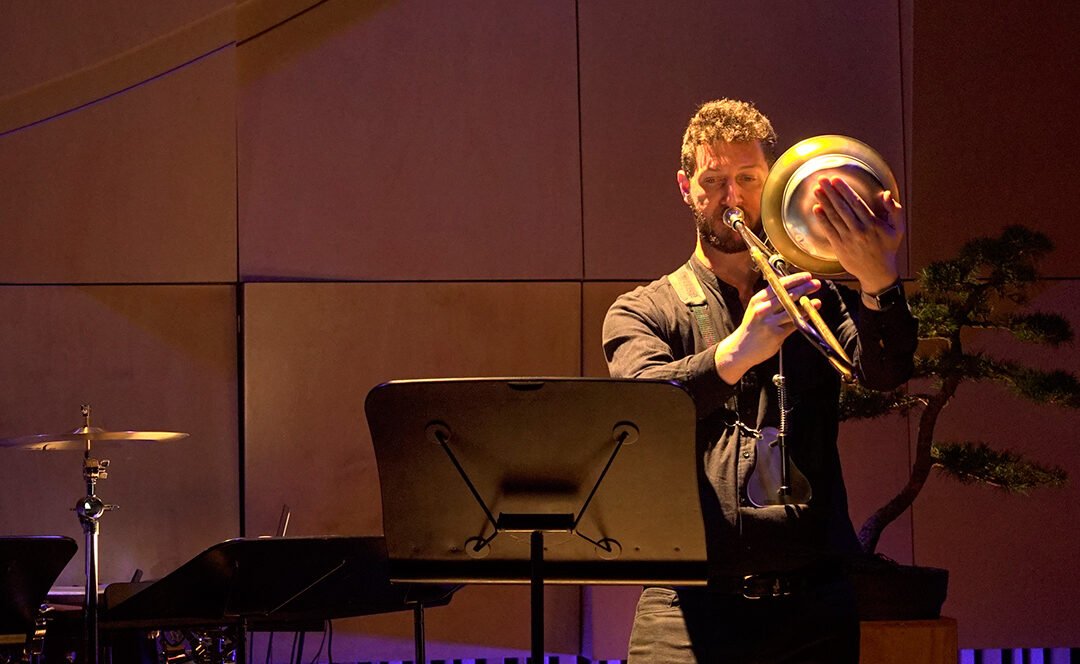 BEN ANDERSON trombone Trombonist Benjamin Anderson has forged a remarkably diverse path through to his spot at the cutting edge of contemporary classical practice. An agent of fine musicianship, his fresh and sophisticated approach to the performance of orchestral...
HAMISH UPTON percussionist Hamish Upton is a percussionist who thrives as a contemporary percussion collaborator and educator. He holds a Master of Music Research from Griffith University, where he used four case studies to explore the use of laptop-based sound...