JAMES HULLICK
JOLT Director & CEO / Composer / Musician
James Hullick is an auditory creator like no other in Australia. Recently James' artistic identity has been shifting from cutting-edge composer to that of an all out iconic performer and artist: The birth of James' STRANGE JAMES identity came with the SSO's 2017 premiere of WERE/OBLIVION for chamber orchestra and unhinged rock god (conducted by Brett Dean):
"his face painted in garish colours and head dusted with glitter – wringing thunderous sound from his electric guitar, channeling Bowie and Hendrix. An exploration of the tensions between artistic practice and family life, WERE/OBLIVION set Hullick's text – a letter addressed to his daughters, sung by the composer in guttural, sometimes screaming tones in a powerful, heartfelt performance of fractured sound and fury." Limelight 2017.
SELECTED ALBUMS
James' creations are concerned with questions of our collective social life drawn from his work with community artists. Since 2006, he has worked with The Amplified Elephants – an ensemble for artists with intellectual disabilities.
A community worker, published researcher and artistic director of JOLT Arts and the BOLT Ensemble, James is an Australia Council for the Arts Creative Fellow 2015 and Michael Harvey Piano Scholar 2016. Through JOLT, James has co-directed large sonic events and festivals locally and in Asia, Europe and the US.
From the outside looking in, James' creativity seems boundless, manifesting sound worlds from inventive machines, electronics, acoustic instruments, found objects, the human voice, sonic ensembles and the uncanny mergings of these things.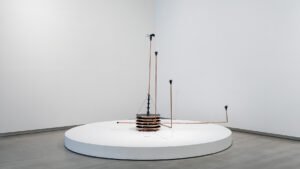 Critics have remarked on the visual, visceral, risky nature of his work: "shocks as much as electrifies the listener"; "Hullick is a social critic. He holds his people and the world of sound up to a mirror" (Reutlingen Press, Germany.) While art critic Ashley Crawford has summarised James' aesthetic as "a decidedly fresh take on the Neo Gothic" (The Age).